Montreal Bachelor Party Nighttime Ideas and Activities
Are you planning the Montreal bachelor party of a lifetime, in a city you don't know, for your best friend? Sounds like quite the challenge! Don't worry, we've got you covered. Below are some great bachelor party itineraries for those looking to get the most of what Montreal's vibrant and diverse nightlife has to offer. You will definitely need more than 2 nights!
10. Kick it off with a Montreal Craft Beer Tour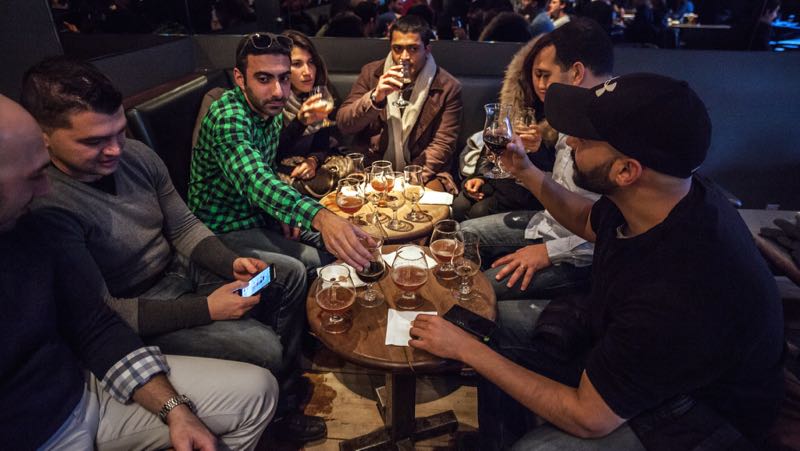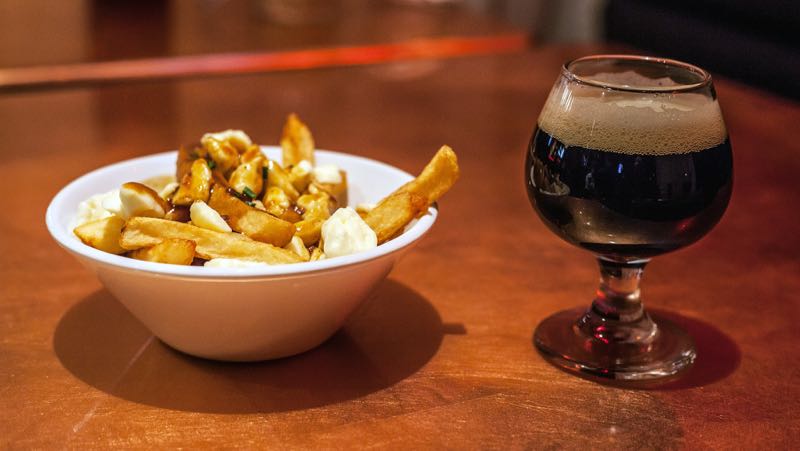 Not sure what to do during the hours preceding your dinner reservation? Treat the groom to a Craft beer experience with a 3 hour walking beer tour! 3 brewpubs and an awesome balance of both artisanal beer and Montreal info, the Montreal Bachelor/ette Party Craft Beer Tour is pretty much the best way to discover the city, while drinking and having a good time with your friends. Or contact us on our online form to book a private group tour
9. Hop on a Montreal Bike & Drinks Tour with Fitz Montreal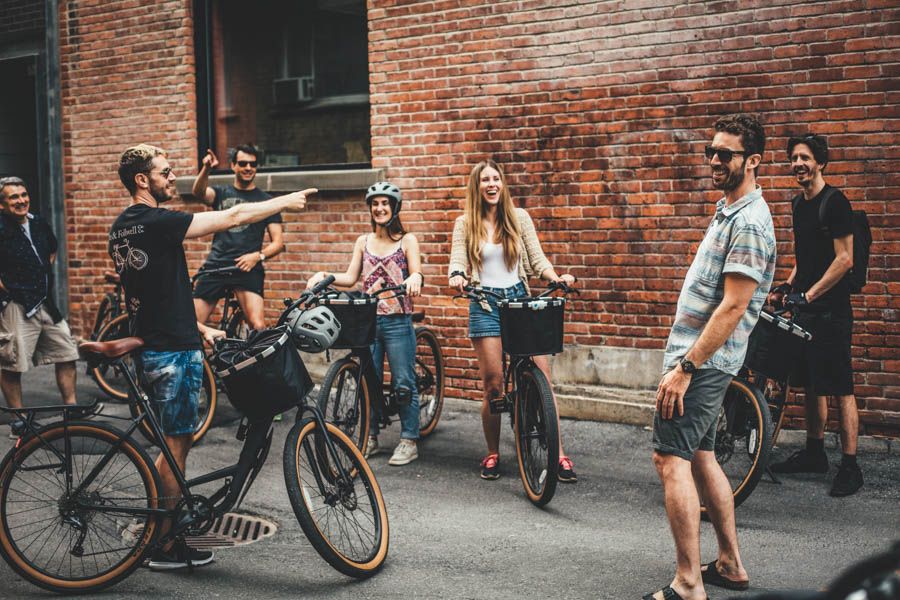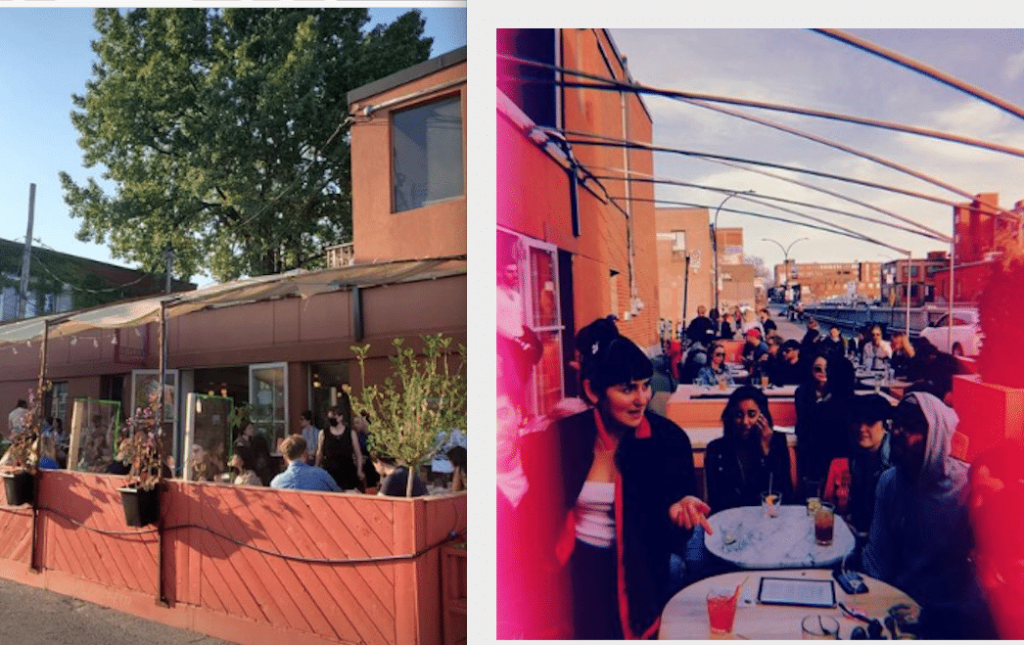 Riding Montreal on a bike, visiting the cool places and then, having a little cocktails stop on a beautiful terrasse? A match in heaven some would say! Fitz Montreal Bike Tours is offering a Plateau, Mile-End and Jean-Talon Market Montreal Bike Tour and adds a little bar stop for groups of bachelors or bachelorettes. They visit Ciccheti bar, which is a very nice bar located in Mile-Ex. Instead of cocktails, groups can also order natural wines glasses. Check out this Montreal Bike & Drink Tour here
Montreal Bachelor Party Itineraries for the evening
9. Old Montreal
A. Clandestino for pre-drink
These two ultra cool bars are the perfect opening to your night because they offer two distinct atmospheres in the same place. Located right next door to poke restaurant Venice on Saint Francois-Xavier. Tucked right beneath Venice is an upscale mezcal and tequila bar named Clandestino. While also Mexican themed, the ambiance at Clandestino is more refined with its plush, warm-coloured couches and antiques, giving the underground space an almost speakeasy vibe. They offer over 100 varieties of tequila and 15 different kinds of salt to accompany them! Who knew getting blackout drunk could be so sophisticated?
B. Then head to Flyjin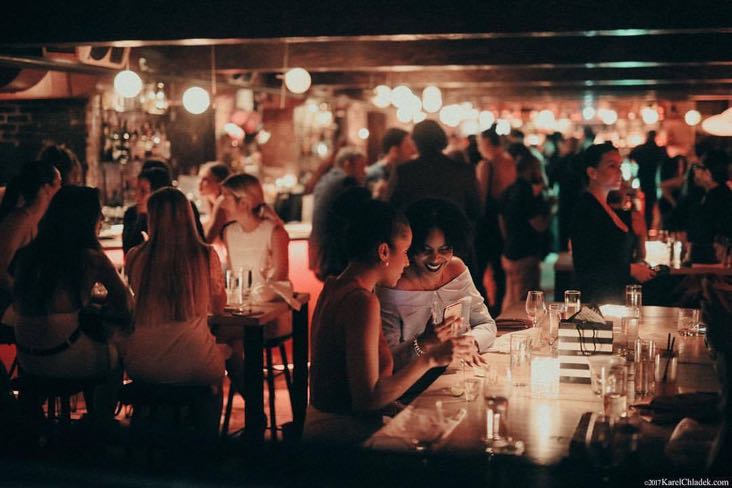 A Japanese-fusion izakaya that turns into a trendy after-hours club with DJs, Flyjin definitely stands out among the cluster of other watering holes in Old Montreal. The atmosphere has an air of mystery and exclusivity– you need to enter the club from an alley and then walk down a set of dimly lit stairs before getting a peak of its lavish decor. The exposed-brick walls and warm-coloured booths add to its intimate, underground ambiance. Attracting a crowd of late-20's early 30's, Flyjin boasts a fantastic Asian-inspired cocktail menu with unique drinks such as the Zen Buddha (Soju, gin, sparkling wine and fresh mint) and the Kun Fu Pinappuru (tequila, Sake, pineapple and cucumber juice, and house-made sours). They also offer bottle service with an extensive whiskey and champagne list. Flyjin is extremely popular (for good reason), so be sure to reserve a table in advance.
(514) 564-8881 or rsvp@flyjinmtl.com
C. Or try out Philémon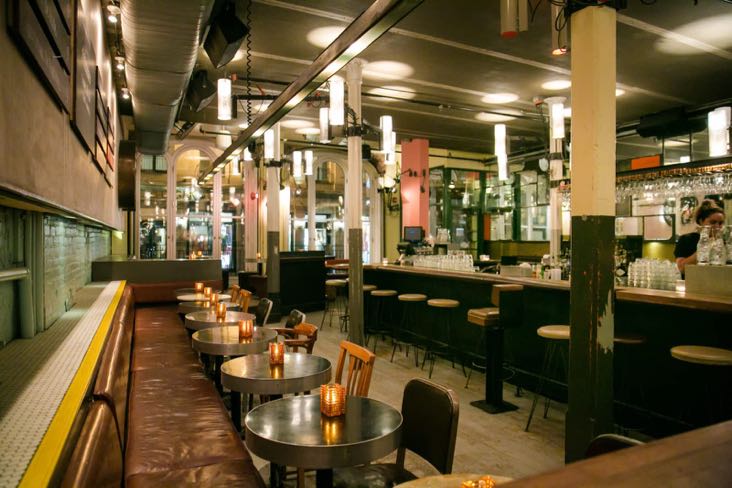 This wine bar is another fun spot for bachelors in the Old Port. With its metallic decor, low lighting, and rustic hardwood floors, Philémon has an industrial vibe to it. The laid-back atmosphere attracts a fashionable twenty-something to thirty-something crowd. The dance floor isn't the biggest, but don't be fooled– the music is definitely one of the highlights (an eclectic mix of house and hip-hop anthems that'll get everyone moving). Their reasonably-priced drink menu has a little something for everyone, from unique cocktails to artisanal beers to a great selection of rum, gin and tequila. But their extensive champagne and wine list is truly the star of the show, so pop the bubbly and dance the night away!
11. Downtown and Crescent Street
A. Kampai Garden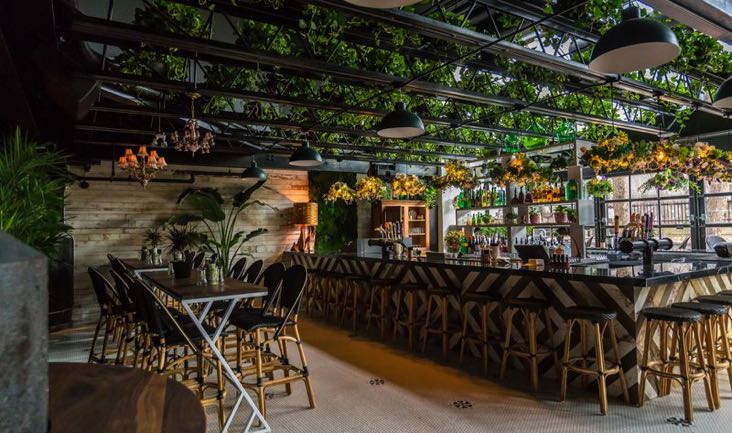 Located on St. Catherine Street a mere 200 metres from the Guy-Concordia metro station, Kampai Garden is a 10 000 square-foot resto-bar than turns into one of the trendiest nightclubs in the city. There's no other word to describe this place but massive: spreading over two floors and several beautifully designed rooms, it features an open kitchen, pool tables, communal seating and multiple bars serving up to 600 customers when at full capacity. The tropical plants (both on the wallpaper and hanging from the ceiling), bright pink bar stools, industrial-style light fixtures and funky 70's couches give it a fun, vintage Los Angeles vibe. The Asian-inspired menu, from Canadian celebrity chef Antonio Park, offers delectable bites like fried chicken with a maple chili sauce, beef carpaccio, shrimp tacos and crispy pork dumplings. But you can't leave without trying one (or all) of their whimsical boozy creations, which are available solo or in 32-oz, 48-oz and 60-oz pitchers for a crowd.
B. Go bar hopping on Crescent Street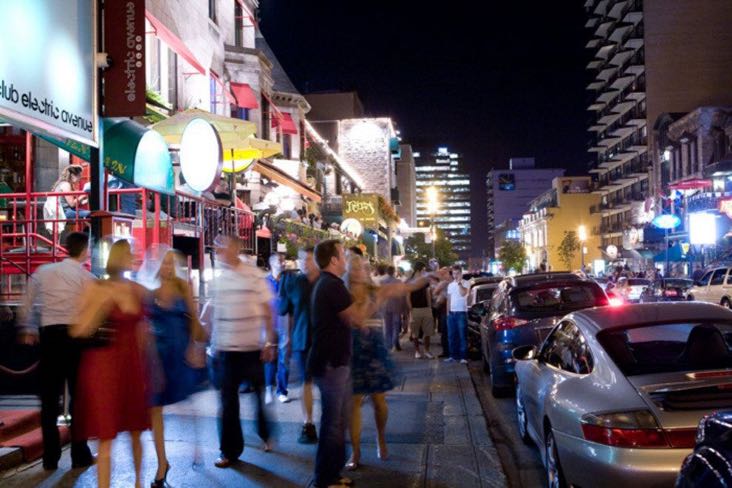 Despite the fact that it's less than a kilometre long, Rue Crescent is still one of Montreal's most action-packed streets. Located between Sherbrooke Street and René-Lévesque Boulevard, you'll find tons of casual pubs, restaurants, and bars, making it a great way to experience the city's famous nightlife (and in the warmer months, get ready to go terrace-hopping). Le Warehouse offers a laid-back atmosphere with great music, fun cocktails, and a tasty menu that has a little something for everyone (burgers, nachos, mac n' cheese) and every single item is only $6! You can't visit Crescent Street without going to Sir Winston Churchill Pub, a landmark in the city. Separated in three floors, downstairs is the actual pub offering a large variety of English brews on tap. At street level, you'll find Winnie's bar-restaurant where you can munch on some great pub fare. And upstairs is Karina, the lounge and dance club. Thursday's is another Montreal institution. Although it attracts a slightly older crowd, it still features live DJs and bottle service. And if you're a cigar lover, Stogies is an elegant yet down-to-earth smoking lounge with rare Cubans and an extensive single-malt and martini menu.
C. Or go to Soubois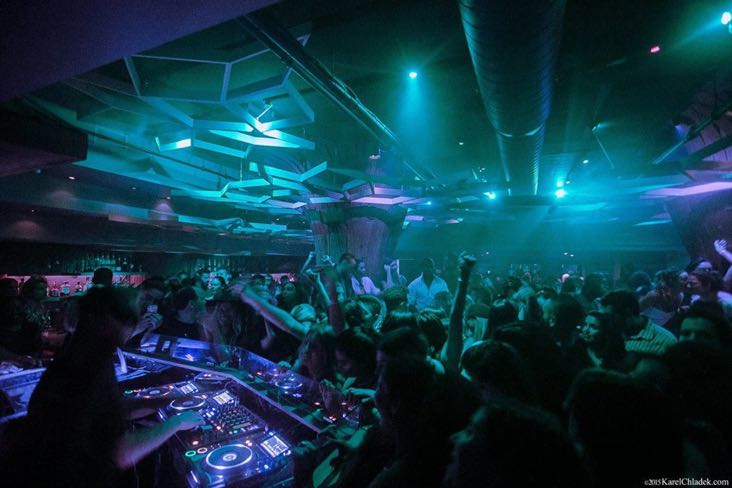 So close to the Peel metro station that you can literally crawl there after you get sloshed, Soubois is a chic restaurant-bar that's truly a stunner. The decor has been described by the management as an "underground enchanted forest" due to its large artistic trees in the centre of the dining room created with fine wood craftsmanship. There's also murals on the walls, curved banquettes, two bars, a wine cellar, a lounge, and a sectioned-off, private room. With expertly-mixed cocktails, great music, an intimate atmosphere and jaw-dropping decor, Soubois is a definite must-try.
8. Partying on St. Laurent aka "The Main" for a Montreal Bachelor Party
A. Apartment 200 for pre-drink
Apt 200 is the ideal chilling spot on St Laurent, the party-central boulevard. Located on the second floor with an incredible decor, blogosphere-approved music, and huge windows that open up in the summer, the place truly gives an intimate feel as if you were at a celebrity's house party of the year. And oh yeah, there's an actual "bedroom." With an actual bed. Make that the groom's throne for the night.
Apt 200 attracts a younger crowd, so consider yourself warned if things get wild. But if it's good enough for hip-hop's current elite including Travis Scott, Nas, Playboi Carti, Metro Boomin and most recently, Kehlani, then it's definitely good enough for your bachelor party. (On a personal note, I had my birthday here and I think I destroyed my liver in a span of forty-five minutes– it can get wild).
B. Or try out Reservoir Brewery or Suzanne Bar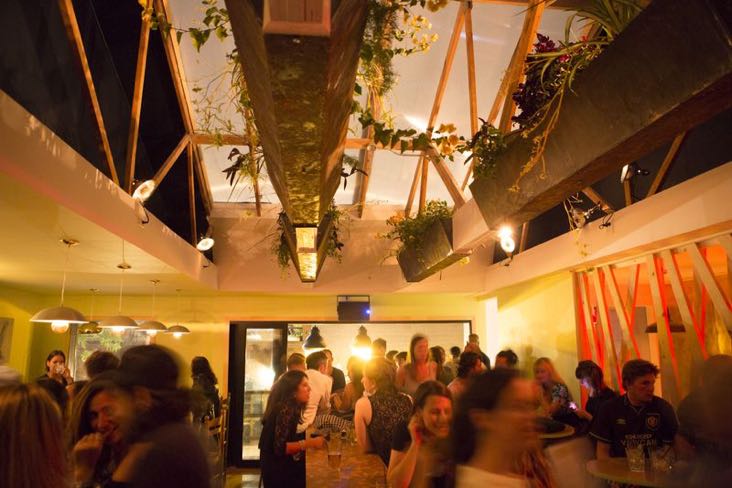 If you're looking something more casual, check out Le Reservoir, a popular brewpub just steps away from Parc Jeanne-Mance that offers draft microbrews, global tapas with vegetarian options, and a rooftop patio in the summer. Completely redone last April, the vibe is laid-back and comfortable with its dark high ceilings, industrial beams and wooden-topped tables.
You can also visit Suzanne, a speakeasy and dumpling restaurant just across the street with a funky decor (the name is an homage to Montreal icon Leonard Cohen and one of his best known songs). The interior was specifically designed to have a greenhouse feel; it's a brightly lit space that's covered in plants and huge skylights. Combined with signature cocktails and a wide variety of music, Suzanne is another great place to start off your night!
C. Then go exploring St. Laurent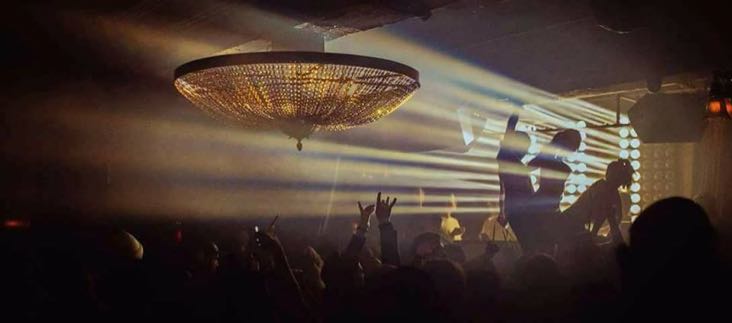 There's so many bars and clubs on the Main that you'll literally trip over them. A good area to start is at the corner of St Laurent and Prince Arthur Street (the Starbucks is an easy landmark to remember). From there, walk in any direction and you're sure to have a good time. Muzique is a posh nightclub with multiple rooms and dance floors playing different styles of music. Overall, the atmosphere has a high-end feel to it and the spacious rooftop terrace in the summer is fun as well.
Located just a few blocks down, Rouge Bar is another popular spot on the Main. It's a sleek, two-story club with different bar areas playing a wide range of music, yet the vibe is less formal than Muzique. You can also check out École Privée (French for "private school"), which is run by the same team behind Apt. 200. The place attracts a younger crowd but is still very trendy and often hard to get into without a reservation.
But if you're looking for something much more laid-back then you have to try McKibbin's, the quintessential Irish pub on St Laurent with a cozy atmosphere and tons of beer on tap. Their karaoke nights are every Wednesday at 10 pm and they can get pretty wild, so don't say I didn't warn you!
7. Plateau Partying for a Montreal Bachelor Party
A. Fitzroy for pre-drink
Located just steps away from the Mont-Royal metro station, Fitzroy is a loft-style bar with 15 billiard tables and 3 foosball tables. The large open space has multiple beautifully-designed areas including a private room for groups of 50 or more. Similar to Kampai, it has a industrial-meets-vintage decor thanks to the exposed-brick walls, dark wood paneling, and retro floor tiles that create an intimate atmosphere. It offers a small menu of gourmet fast-food snacks (chicken wings, poke bowls, dumplings, etc), but their Instagram-worthy cocktails like the Rodeo Drive with El Jimador, house-made sours and passion fruit purée are really the star of the show. So start your night off with a couple drinks and a few games of pool before things start to get a little fuzzy.
B. Then head to Mayfair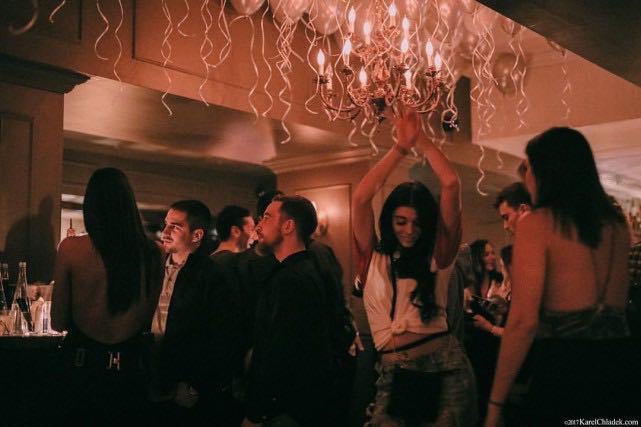 Named after one of London's most lavish neighbourhoods, Mayfair is a chic cocktail bar and spiked tea room with a Victorian-era vibe. The elegant furnishings, ornate lamps and plush banquettes will transport you to a late-19th century English bar. Their unique cocktails are a signature blend of tea and booze, like the Wake Up Call with gin, Cointreau and kombucha, or the Saffron Sour with bourbon, saffron syrup and camomile. They also offer bottle service, and on Thursdays, Fridays and Saturdays a live DJ will get everyone moving.
C. Finish at La Banquise for some late-night poutine
You can't go drinking in Montreal without finishing the night off with some poutine. Especially if your are having a Montreal Bachelor Party. For the uninitiated, poutine is a uniquely-Canadian delicacy of french fries, gravy and cheese curds that both warms your belly and satisfies drunk cravings like nobody's business. La Banquise serves up some of the best poutine in town, and it just so happens to be 50 metres away from Mayfair. The casual diner is open 24/7, and they offer tons of unique twists on the classic poutine like the T-Rex with ground beef, bacon, pepperoni, and hot-dogs, or the Elvis with beef, green peppers and mushrooms. Will you need to hit the gym on Monday? Yes. Will the warm, gooey french fries taste amazing after a night of drinking and debauchery? Absolutely.
Food. Montreal is really good at food. The challenge when you're planning a bachelor party will be finding a quality spot with a great atmosphere, that can accomodate your large (ish) group. If you're looking for the city's foodie spots, Au Pied de Cochon is generously praised by every food critic and visitor who walks through its doors, so make a reservation! La Salle a Manger will give you a taste of Montreal in a laid back atmosphere. And Club Chasse et Peche is a must for meat lovers! If you're looking for a mid-priced spot with an atmosphere that's not too pretentious, La Raclette in the Plateau is bring your own wine European restaurant and happy to welcome large groups
6. Pick the right strip club for your Montreal Bachelor Party
Let's make sure you don't pick the wrong strip club for your friend's bachelor party, shall we? That could go… really badly. Chez Paré is known for maintaining class while providing you with the sultry experience you're looking for. It's a bit pricey, but if you're looking for a lush, sensual experience you'll be happy you budgeted for it.
6. Watch the hockey game at a sports bar
Ok, time to get Canadian. Quebec might be the country's black sheep, but when it comes to Hockey… it blends right in. If your groom is a hockey fan, you have to join Habs fans on game night and experience the rowdy, energetic atmosphere. Irish pubs are plentiful in this city, and usually a great choice for game-watching. Ye Old Orchard (multiple locations), The Irish Embassy, and Hurley's are good places to start. These are all located downtown, with a mainly English-speaking crowdFor a taste of Montreal's trendy, impressive decor bars, you can make your way to Sieur d'Iberville (you may learn some French here, too), or Fitzroy on Mont-royal. Fitzroy has pool tables, arcade games, loft space… it's pretty much a playground. And finally, Burgundy Lion in Little Burgundy is a British pub dedicated to the craft of game watching. Bonus: Chez Serge is actually a prime option, too. Get there a little early to reserve a table.
3. What about after hours?
Montreal's reputation for being a party town doesn't stop after 3am. No way. Follow the party to Stereo Afterhour when the bars close if you want to keep your legs moving. It's probably the best known "after" in the city, both for its music and special events. The crowd will be mixed, and remember: no alcohol is served, as 3pm is the cut-off time for sales. So make sure you're nice and sloshed before you go!
1. Montreal Bachelor Party won't work without a midnight snack
The highlight of your bachelor party might be the strippers, the night club, the pub crawl… but it also might be… the poutine you eat at 3 am with your new friends! Post-bar food is always the best: you've had an amazing night, met some new people, burnt a million calories… and need to refuel. There are a few spots that stay open late and are happy to serve you. La Banquise offers more varieties of poutine than you thought possible, and is open 24h a day.Lebanese spot Boustan, famous for their "creation" sandwich, is open until 4am, and is so popular that it has a Wikipedia page. And, just in case you want a fancy French meal at 1am, L'express on St-Denis is at your service.