Corporate Events and Private Tours
The perfect plan for your Montreal Team Building & Corporate Events
Spend time with friends, family or co-workers by immersing yourselves in Montreal's culinary landscape. Effortlessly memorable, our Private Tours and Corporate Events offer a taste of Montreal that's fully customizable and perfectly tailored to suit your needs. From 10 people to 100 we love shaping unique group experiences, no matter what you're looking for.
Private group tours with Montreal Craft Beer Tours are a perfect event for:
¤ Team building activities
¤ Corporate events
¤ Large friend and family outings
¤ Arrival of a new employee
¤ Singles and networking groups
¤ Birthday celebrations
¤ Weekday/end group activities
¤ Culinary and cooking groups
¤ Bachelor and bachelorette parties
¤ Bridal or baby showers
¤ Workshops and activities
¤ Wedding anniversaries
Private Tour Offerings
Let us know what you're looking for, and we'll take care of the rest. When you arrive for your Montreal Team Building or Corporate Event all you need to do is relax, savour, and enjoy the tour. Here's what is available to you:
Perks
All logistics of the tour are taken care of for you
Our close relationship with our partner restaurants means we take you to the most trusted destinations
Get to know the neighbourhood and the food with the help of an engaging and knowledgeable food tour guide
A food tour expert from our team will work closely with you to understand your needs to build the perfect custom experience for your tour
Options
Multiple bar options to choose from
Multiple food and drink packages available
Historical and cultural information
Central downtown location
Taxi service to pick you up and drop you off before and after the tour
Our tour guide can accompany you to and from the tour
Substitutions for dietary restrictions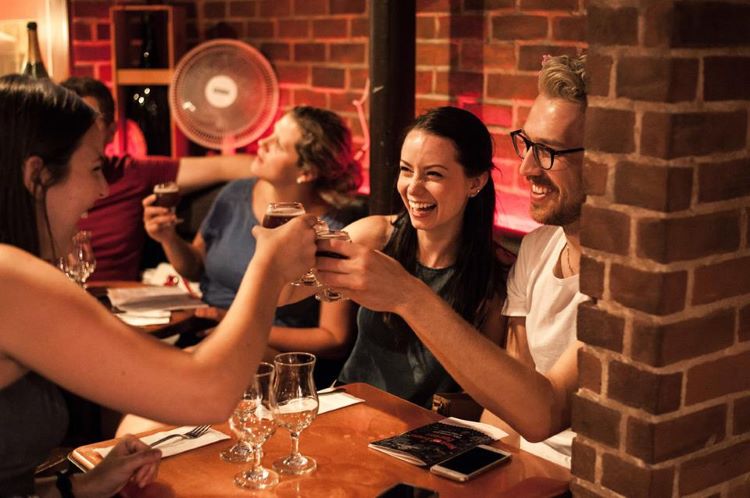 Booking Your Private Tour
Please fill out your information in the Private Tour Request Form to start planning your custom food tour. We will contact you directly by phone or email within 24 hours. Want to email us directly? Please contact our Corporate Sales & Event Manager, at [email protected]
Pricing Information
Pricing will vary depending on the specific details of your custom tour and the number of people attending. Please contact us for a detailed estimate tailored to your event. Please let us know if you have a particular budget in mind for the tour.
---
You can trust your team will be in good hands!
Montreal Craft Beer Tours has partnered with these companies for their own corporate events.
★★★★★
5 Star Rating with over 2000+ Reviews on TripAdvisor
"Our guide and the food were awesome!" "Best part of our trip to Montréal!"
Guests are always returning from their food tour experiences with rave reviews. Delicious cuisine and our passionate, knowledgeable guides make this a 5/5 star experience time and time again.
---
FAQ:
Montreal Craft Beer Tours will try to accommodate any particular requirements or dietary restrictions of your private group event.
Private Group Beer and Food Tours are held rain or shine.
All logistical details will be agreed upon ahead of time by the private group tour organizer and Montreal Craft Beer Tours.
All private group food tours last 2 or 3 hours.
For Private Group food Tours, visit our colleagues at Local Montreal Tours