Montreal Brewpub Experience Craft Beer Tour
Highlights of the Montreal Brewpub Experience Craft Beer Tour:
Discover 3 unique and renowned craft breweries. Every beer we taste are brewed on location!
Taste 6+ exceptional beers varying in style, that add up to a grand total of slightly more than 2 pints or 1,000 ml of beer.
Food will never be far. All beers are paired with a food tastings. We will be served a special Westmall beer poutine and enjoy local cheese, beef gravlax and chocolate–perfect fits for our specific selection of craft beers.

Go green and avoid being driven in the traffic

(It's crazy in Montreal). Choose a Walking Craft Beer Tour and discover the city by it's best side!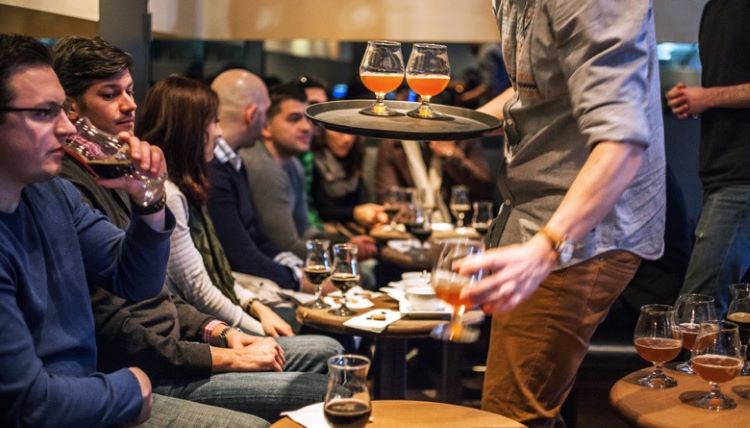 Tasting Locations:
Brasserie St-Bock We start with 2 seasonal craft beers, then top everything off with a mini-poutine infused with… beer, of course!
L'Amère à Boire We drink 1 German Hefeweisen paired with beef gravlax. We then taste a unique Czech beer paired with a fresh local cheese. Bonus: we enjoy a nacho platter ,too!
Benelux Here we enjoy 1 IPA and finish the tour with an Imperial Stout, whose flavour changes with the seasons. We are served a selection of chocolates that take your taste buds to a whole other level of flavour and punch.
One-of-a-Kind Beer Tastings – On our 3-hour guided brewpub experience, you will visit 3 craft breweries, all of which were founded here and are locally owned. You will savour a variety of 6 unique beers available only in Montreal. Carefully paired food samplings are served along with each brew, making for some interesting combinations such as : an original Belgian beer-infused poutine, slices of beef gravlax and cheese, and gourmet chocolate. Stops include 3 of the best brewpubs in town, 6 craft beer tastings, each within short walking distance of each other. All food and beer tastings are included in the ticket price. Please refer to the tasting locations on the right.
Historic & Cultural Experience – As you may have heard, beer makes everything better, especially history! Between tastings, the tour guide lets you in on the dark side of Montreal's past. You'll visit and learn all about the former Red Light District, where gambling and brothels were a way of life. You will also visit the entertainment district, the Quartier des Spectacles, which is home to some of the biggest festivals, such as: the world renowned Jazz Festival and the very popular Just for Laughs comedy fest. You'll also tour Montreal's architectural gems, beautiful gardens, historic mansions, backdoor venues, hidden parks, exciting attractions and restaurants. In addition, our enthusiastic local guides give you a crash course on how to taste craft beers and savour the expertly paired food samplings, while sharing their knowledge, recommendations, and personal anecdotes about how Montreal became the city it is today.
Our Montreal Craft Beer Tour is perfect for natives and visitors alike. This tour is for beer lovers, people who want to up their beer IQ, foodies, couples, friends, and families. It is a unique gift idea and perfect for occasions such as: birthdays, team building events, anniversaries, bachelor/ette parties, or simply just getting together with friends. Whether you're a visitor or a local, we guarantee that you will have a good time, and walk away with a greater appreciation for Montreal (and let's face it, feeling a bit buzzed).
Our Montreal Craft Beer Tour helps you uncover some of the city's best and unique local products. As you are guided through the neighbourhood, you will discover the city's best-kept secrets, culture, and most delicious craft ales in the world, leaving you feeling satisfied. After the guided tour, you will also receive a free Neighbourhood Guide featuring information about the stops, a detailed map of the brewpubs, restaurants, entertainment and cultural offerings nearby, as well as a diagram explaining classic beer tasting. Discover why Montreal is one of the hottest, liveliest, and most unique cities in the world.